For large scale production of fried banana chips, this fully-automatic banana chips line will be a good choice. This complete processing line integrates many functions, such as peeling, slicing, frying, cooling, leaching sugar, re-frying, deoiling, seasoning, and packaging.
Related machines of the fully automatic banana chip production line
| | |
| --- | --- |
| No. | Equipment name |
| 1 | Green banana peeler |
| 2 | Banana slicer |
| 3 | Hoist conveyor |
| 4 | Belt type banana chips blanching machine |
| 5 | Fried chips air-drying and cooling machine |
| 6 | Hoist conveyor |
| 7 | Leaching sugar machine |
| 8 | Hoist conveyor |
| 9 | Belt type continuous frying machine |
| 10 | Fried banana chips deoiling machine |
| 11 | Hoist conveyor |
| 12 | Automatic seasoning machine |
| 13 | Automatic packaging machine |
A detailed description of the automatic fried banana chips line
1. Green banana peeling machine
This machine has different types and models as well as different capacities. For large scale peeling work, the good choice is to choose the double inlets type.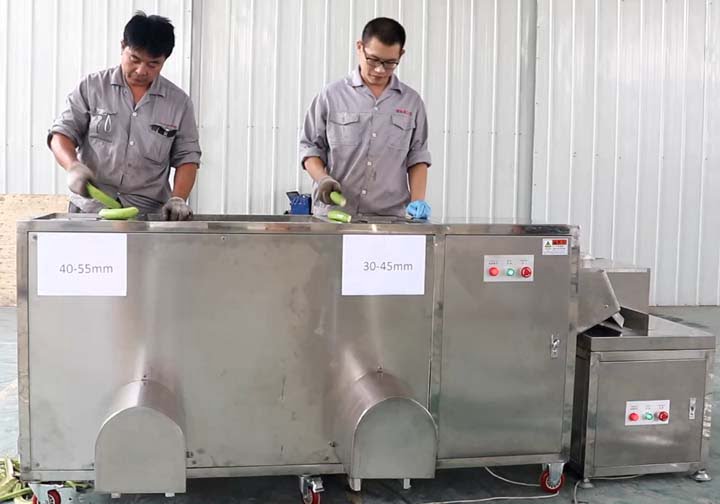 The most commonly used type for the complete banana chips production line is the press-type slicer machine. This electric slicer has high efficiency for slicing banana into chips with even thickness.
3. Hoist conveyor
For automatic mass production of fried banana chips, the hoist conveyors are very necessary for materials transporting. The use of these conveyors in lines can replace much labor works and save much time.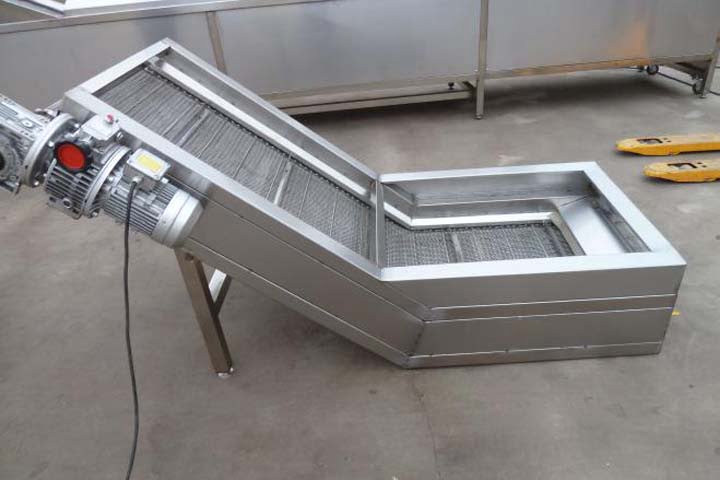 4. Continuous chips blanching machine
This belt type blanching machine is especially suitable for the fully-automatic banana chips line. With adjustable temperature control, this machine can blanch chips with good colors and tastes.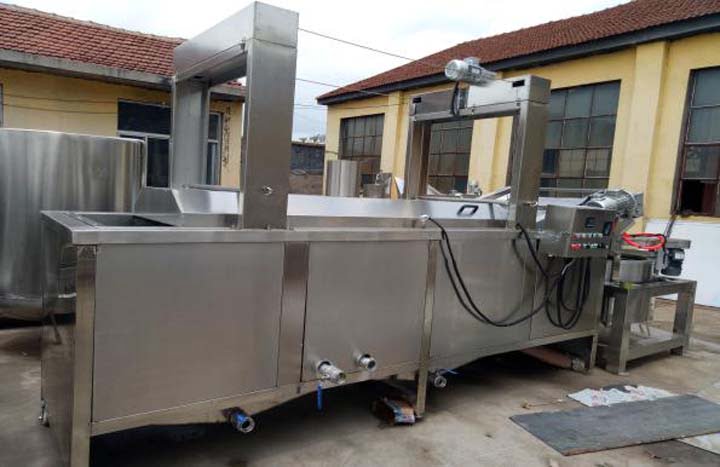 With multiple sets of fans, this dryer machine can dry or cool materials quickly by continuous airflow.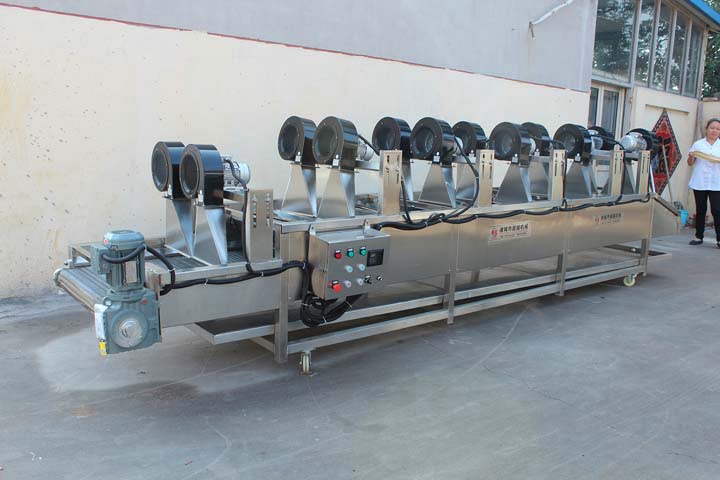 6. Banana chips sugar coating machine
This box type leaching sugar machine is mainly used for soaking chips with sugar evenly. If the customers don't need this step, it can be removed from the processing line list.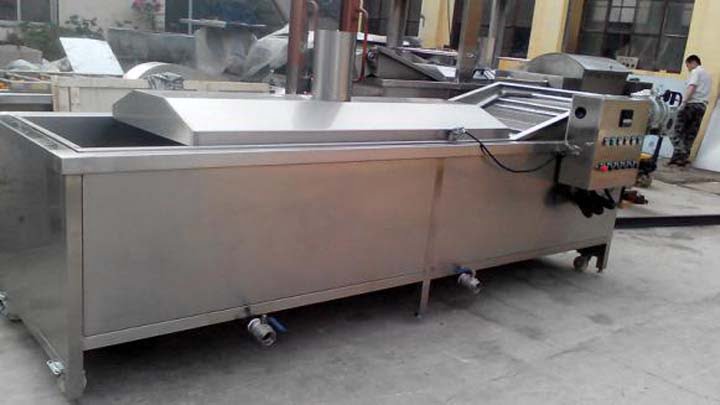 7. Belt type frying machine
Same as the former continuous fryer machine, this frying machine should be set again in this line for the second frying of the sugar-coated banana chips.
8. Deoiling machine
After frying, this production line needs a fast deoiling machine to remove the excess oil. And the deoiler machine has different types in the Taizy machinery factory.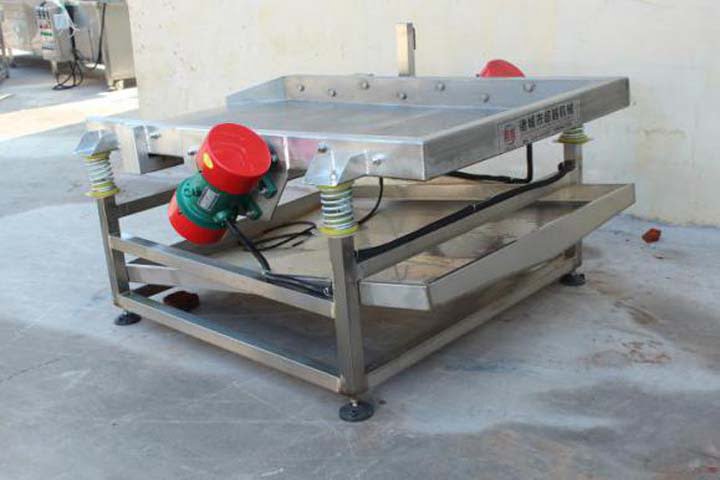 9. Automatic seasoning machine
For making banana chips with various flavors, the rotary seasoning machine will be a good choice. And this type of seasoning machine is very suitable for mass production.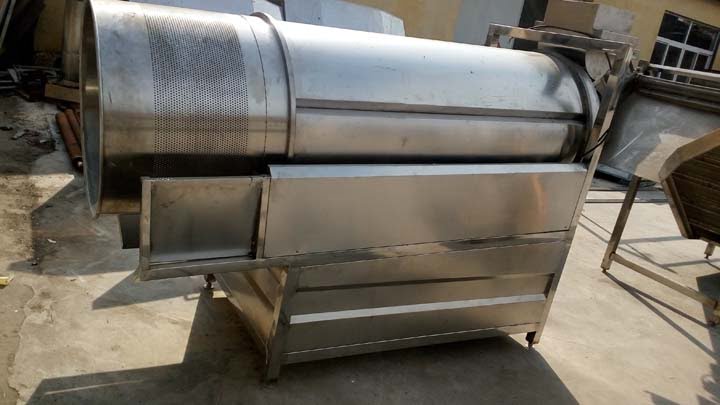 10. Automatic packaging machine
The last step for this processing line is to pack these fried banana chips. This machine has a large packaging capacity and is widely used for various chips and fries lines.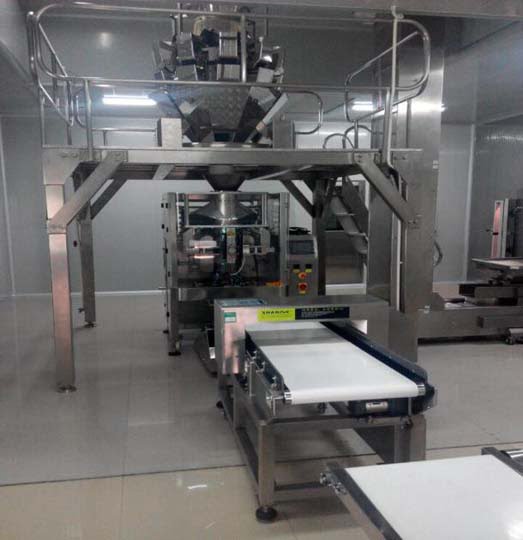 Main features of the fully-automatic banana chips processing line
1. The output of this fully automatic fried banana slice processing line is not unique but can be customized according to customer needs. The common output of customer orders is 150kg / h, 200kg / h, 300kg / h and 500kg / h.
2. The complete set of machines are made of 304 stainless steel, which can not only ensure the flavor of the finished product but also ensure that the equipment has a long service life.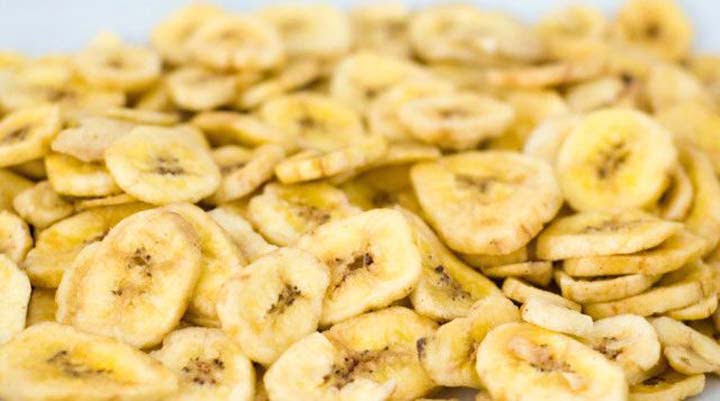 3. In addition to providing customers with high-quality machines, we can also provide customers with the most reasonable production solutions and profit analysis for free to help customers get the maximum benefits from fried banana chips production.
Working video of the automatic banana chips production line