Fully automatic frozen french fry processing line is highly automated and intelligent. This automatic french fries line is suitable for large-scale French fries plants, but also suitable for small frozen fries processing plants. With less manual participation and higher return on investment, this set of commercial french fries making machines are very popular on the global market.
Machine list of the fully-automatic frozen french fries plant
| | | |
| --- | --- | --- |
| NO. | Equipment name | Equipment picture |
| 1 | Hoist conveyor | |
| 2 | Potato washing and peeling machine | |
| 3 | Picking line | |
| 4 | Potato strips cutter | |
| 5 | Hoist conveyor | |
| 6 | Dust remover | |
| 7 | Rinsing machine | |
| 8 | Blanching machine | |
| 9 | Vibration water remover | |
| 9 | Air cooler | |
| 10 | Hoist conveyor | |
| 11 | Continuous frying machine | |
| 12 | Vibration oil remover | |
| 13 | Air cooler | |
| 14 | Hoist conveyor | |
| 15 | Instant freezing machine | |
| 16 | Automatic packaging machine | |
Note: The machine configuration of the fully automatic french fries line is very flexible, we need to match according to customer needs. This list of machines can be used as a reference, basically covering the fully automatic production process of French fries. Moreover, some of the production links can be adjusted and changed according to actual production needs.
The processing flow of fully automatic frozen french fries line
1. Hoist conveyor in automatic fries line. The hoist conveyor plays an important role in the mass production of frozen french fries. Its main function is to automatically complete the transportation of materials and reduce manual participation.
2. Automatic washing and peeling equipment can remove the dirt and skins of potatoes quickly. For automatic processing, it is designed with an inner screw for pushing the clean potatoes forward.
3. The setting of picking line(table) is for labor picking out of the bad potatoes so that it can ensure the french fry quality.
4. Potato strips cutter machine can cut potatoes into even strips, and the final potato strips size can be adjusted. For large scale french fries processing, this machine can be set up more than one.
5. Dust remover and rinsing machine are mainly used for deep processing the potato strips, such as to remove the hair and other debris.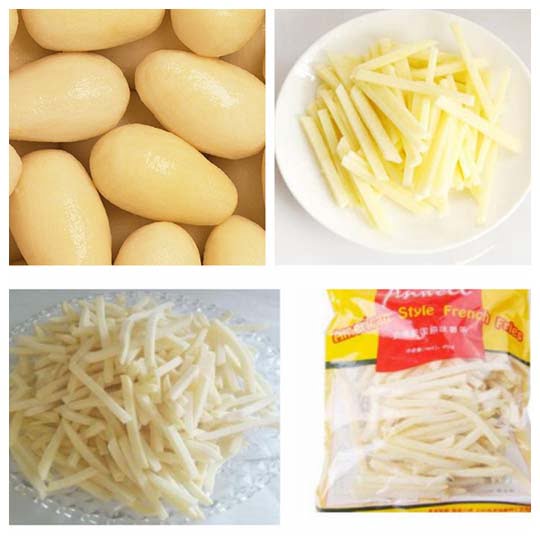 6. Blanching machine is needed for removing the starch on the surface of the potato strips, and achieve the purpose of color protection.
7. In order to achieve better and faster dewatering and deoiling effects, the de-water and de-oil equipment of the fully automatic french fries line have been replaced by a combination of vibration water remover (oil remover) and automatic air cooling equipment.
8. The continuous frying machine can be gas-heating and electric-heating so that the customers can choose freely. Besides, the temperature control and materials transporting speed are adjustable to this machine.
9. The continuous instant freezer is necessary for quick freezing of the french fries. Its inner chain conveyor structure can automatically transport the fries through the low-temperature space and achieve quick freezing.
10. This ten-bucket packaging machine is a fully automatic packaging machine with the best packaging effect and highest efficiency in the current market. Its packaging size and packaging weight can be customized. In addition, nitrogen filling and coding can also be performed.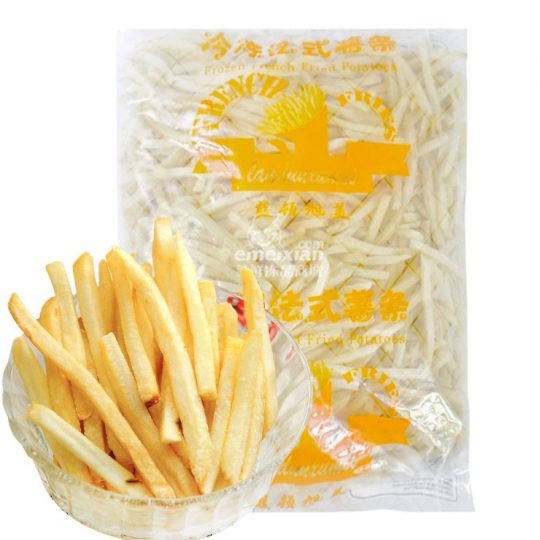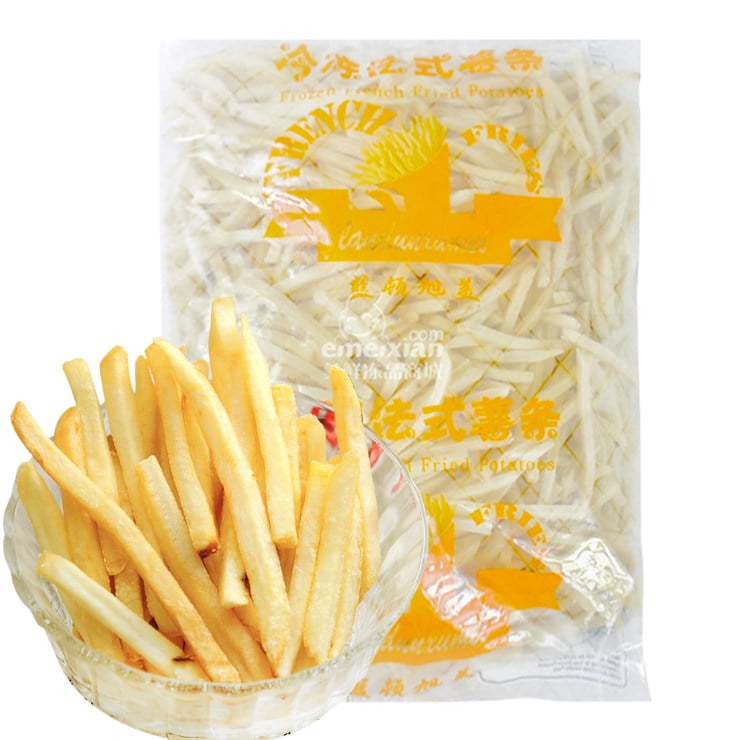 Main features of the fully-automatic frozen french fries processing line
All made of 304 stainless steel, clean, durable, anti-corrosion and longer service life.
Integrated design, safe and intelligent operation, easy cleaning and maintenance.
Multi choices. No matter how large a customer's fries production needs are, we can provide corresponding fries processing lines. At present, our hot-selling frozen french fries production lines are 100kg/h, 200kg/h, 300kg/h, 500kg/h, 1000kg/h, etc.
French fries production line's working video